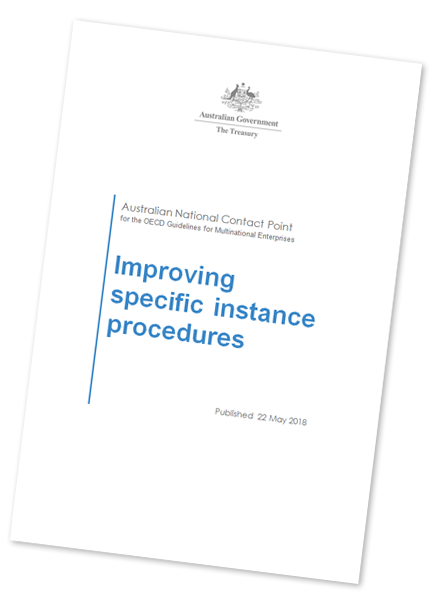 UPDATE: Treasury is pleased to release its updated specific instance procedures, which modernise and clarify the way in which the AusNCP intends to handle cases going forward. The revised procedures are now available on our website and an accompanying statement from the AusNCP is available here: PDF 393KB | DOCX 162KB. Please note that this procedural guidance will be updated in due course to reflect structural changes announced in November 2018. Stakeholders will have the opportunity to provide feedback on the draft procedures before they are finalised.
Treasury thanks stakeholders who submitted a written response (published below with permission) and who attended our consultation session held in Melbourne on Monday, 4 June 2018. A copy of Treasury's earlier discussion paper Improving Specific Instance Procedures is available here: PDF 250KB | DOCX 1.8MB. 
Enquiries can be directed to the AusNCP Secretariat on +61 2 6263 2224 or via email to Secretariat@ausncp.gov.au.